The Urban Safari Rescue Society is a registered non-profit society dedicated to the rescue and care of exotic animals and to educating the public about animals, their environments and the natural world.
Our charity number: 80757 1047 RR0002  Our society number: S-0061328
Urban Safari Rescue Society was conceived from Cinemazoo in 2007 by Gary Oliver as an effort to make a difference in the lives of people and animals alike. Gary has dedicated his life to learning about, working with, and rescuing animals. It is his belief animal education programs about all kinds of animals will ultimately make a difference in the lives of animals in captivity and in the wild.
Some of the animals we rescue are near the bottom of the food chain, but without them, all other forms of life as we know it would slowly disappear. Saving these animals provides us with a unique opportunity to have them as living ambassadors in our outreach and in-house animal welfare education. Teaching people about animal conservation efforts is the priority, especially given the reality of today's world of vanishing habitats and species.
Our Mission
To Rescue, care for, and maintain the health of rescued exotic pets and other animals.
To Educate children and adults about various animal species and the importance of all animals to our environment, the need for conservation, and the responsibilities that come with exotic animal ownership.
To Provide public awareness of worldwide animal conservation efforts and encourage people to take an active role in those efforts.
For our latest news, visit our Rescue Report page.
Gary Oliver – Founder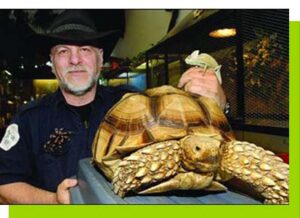 Gary started Cinemazoo in the 80's, the first animal agency in Canada, humanely training and supplying animals for the film, TV and still photography business. Gary developed Cinemazoo over 27 years and has too many credits to list, but the Telus ads, the movie I am Legend, and the TV show X-Files are but a few. Out of Cinemazoo Gary founded Urban Safari Rescue Society. 
Gary attended the Veterinary Medicine program at the University of Guelph and holds a certificate in Fine Arts from Capilano University. He has lived an exciting life full of diverse experiences and adventures. 
Gary worked for several years at National Cash Register as a graphics designer where he received a certificate of achievement award. He spent several years volunteering and working at the Royal Ontario Museum in their Entomology department, as well as volunteering with the Greater Toronto Zoo. He spent several years in the Queens Guards, escort for the Royal Family, and achieved the rank of Captain.
When he moved to BC, Gary started the very successful Eagle Frames company, which was Canada's first metal frame production company. At that same time, he owned one of the largest Arabian horse farms in southern BC. Following some personal setbacks, Gary formed and ran the Pacific Artists' Studio in downtown Vancouver. This successful studio, the first of its kind in BC, was the starting ground for much of BC's arts culture, frequently visited by artists such as Toni Onley, Jack Shadbolt, Ken Wessman, Jack Darkus, Bill Reid, Graham Harrop, Michael McKinnel.
Gary Oliver also is in the City of Vancouver historical archives twice – once for winning an award for the Preservation of Historical art. Gary mounted a successful campaign to save one of the largest indoor murals in Canada. The second for saving a woman from a burning building.
Gary has also been re-elected to the Cloverdale Chamber of Commerce. It is the fourth year in a row.
A biography of Gary Oliver's life (CINEMAZOO: My Urban Safari) can be found in Chapter's/Indigo, Amazon and other bookstores.