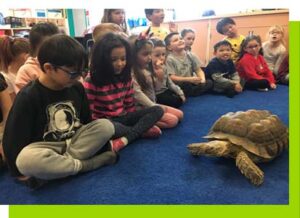 Kids who want to experience a summer camp like no other.
Race like a frog, dissect owl pellets, and see a tortoise race – yes, real tortoises! 
Hang out with friends, whether they have claws, wings or feet. Usually one of the rescued exotic animals joins us for the day.
Is your child curious about the natural world around them and loves animals of all kinds?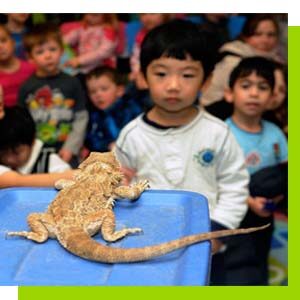 Keep them learning, having fun, and encourage their curiosity about the natural world by enrolling them in this unique experience of animal adventures. Every day, your child will explore a different animal family. We have Bug Day, Reptile Day, Amphibian Day, Mammal Day, and Fish & Bird Day. No two days, just like no two exotic animals, are alike. 
Each day begins with a discussion about the animal family for the day. Kids will have lots of fun with games, crafts like designing a habitat, activities such as dissecting owl pellets, and learning-such as observing insects with microscopes. We also usually have a rescued exotic animal in the classroom for the day.
Please note this is not a 'petting zoo' situation. Our animal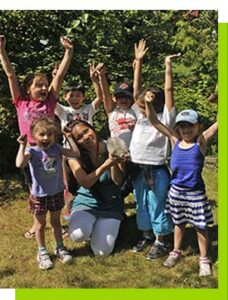 education camps focus is on animal welfare education. We want to share with your child our animal conservation efforts and offer animal welfare education for the future of all. 
We have a bug lab!! There is only one other in BC and we are thrilled to offer this amazing opportunity for your kids to examine and study the vast world of insects in this unique interactive buggy adventure.
We will provide more information when this is set.
Camps are 5 days a week – 10:30 am to 2:30 pm
Classes for 2023 will be determined closer to the summer. To express your interest, call 604-531-1100, email [email protected] or click button below.
Note: Classes are held in an air conditioned indoor classroom.
We will refund your entire fee minus an administration fee of $25.00 up to 7 days before the class begins. Please note there are no refunds after the course session begins.
We have been successfully providing live animal education programs for over 10 years and are fully insured and permitted by the Department of Fish & Wildlife. Our Nature Club and Camp leaders and presentors have had criminal record checks by the RCMP.

SUGAR GLIDER
The grande finale of every presentation, Sugar Gliders have been voted the cutest face of all, with their black stripe and gigantic eyes to see in the dark. Sugar Gliders lean back and chatter at you if you have upset them, like a small yapping dog. When they are on the move, their opposable thumbs (Cats are jealous!) and four fingered hands and feet, along with their velcro like hooks, make them skilled climbers. This helps them get to the great heights where they glide from tree to tree in search of food. Audiences ooo and aww as they watch them glide through the air at our presentations.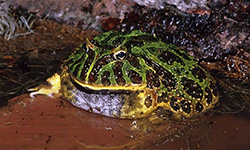 Argentine Horned Frog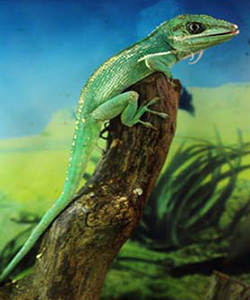 Cuban Knight Anole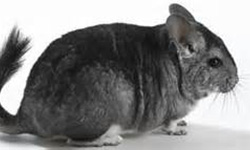 Chincilla