Teens (13 – 17) interested in learning how to care for animals in captivity. So many animals – from Snapping Turtles to Sugar Gliders to Stick Bugs are rescued or surrendered each year. Learn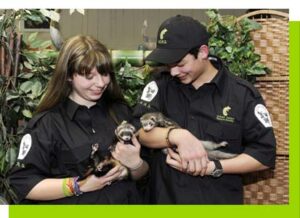 how to care for these animals in a real exotic animal rescue and get hands on animal care and training in basic zoo keeping techniques. 
Teens will learn what careers are out there for them working with animals, why we have zoos and conservation centres, how to introduce a new animal into a new enclosure, why many exotic animals don't make good pets, and much more. We focus on animal conservation efforts to give surrendered and rescued exotic pets a safe home to live out their natural lives.
The course covers topics such as pest control, animal husbandry, safety while working with animals, animal characteristics and animal behaviours. The many potential careers working with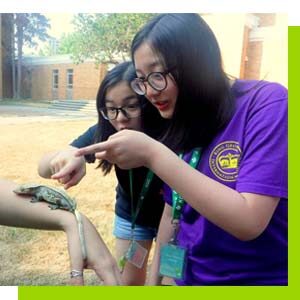 animals is also covered in the course, along with the purpose of zoos, rescue centers, and animal conservation efforts.
Learn in a relaxed atmosphere surrounded by our 350+ exotic animals.
In the first hour, teens learn important concepts of animal welfare education in our classroom. The second hour is hands-on work with our animals, with the guidance and supervision of our instructor.
Although this course is not being offered at this time, please let us know you're interested by emailing [email protected] or clicking the button below and we'll notify you when it's offered.
2 hours of exploration and learning every Saturday from 1pm – 3pm for 7 weeks
Maximum class size:  5
Cost: $210.00 + GST 
10% discount for siblings and Society members (click here for more details).
Refund Policy
We will refund your entire fee minus an administration fee of $25.00 up to 2 days before the class begins. Please note there are no refunds after the course session begins.
We have been successfully providing live animal education programs for over 10 years and are fully insured and permitted by the Department of Fish & Wildlife. Our Nature Club and Camp leaders and presentors have had criminal record checks by the RCMP.

BEARDED DRAGON
Bearded dragons, also known at Urban Rescue as the spikey pancakes, are full of personality. Come Movember, they won't be shaving off those 'beards'. Instead, they will show them off to look tough by puffing them out, much to the delight of visitors. If that isn't enough, they will puff out their bodies to show off their spikes, creating a flat, spikey pancake look they hope is not appetizing. Hailing originally from Australia, they attract mates by bobbing their heads in a dragon dance and wave to each other in greeting to establish status. Sound familiar?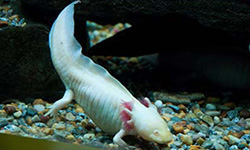 Axolotl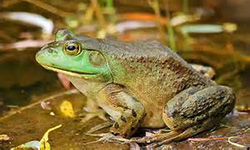 American Bull Frog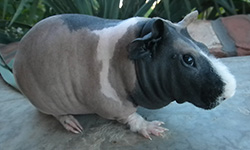 Skinny Pig